2015/10/29 - Gaëlle
At first, we all know that tea is a hot beverage, but when it's too hot outside, when we can't stop sweating and when we only have one thing in our mind – cool down – it seems that this option is not really the best. We opt for a beverage very cold instead of this: iced tea.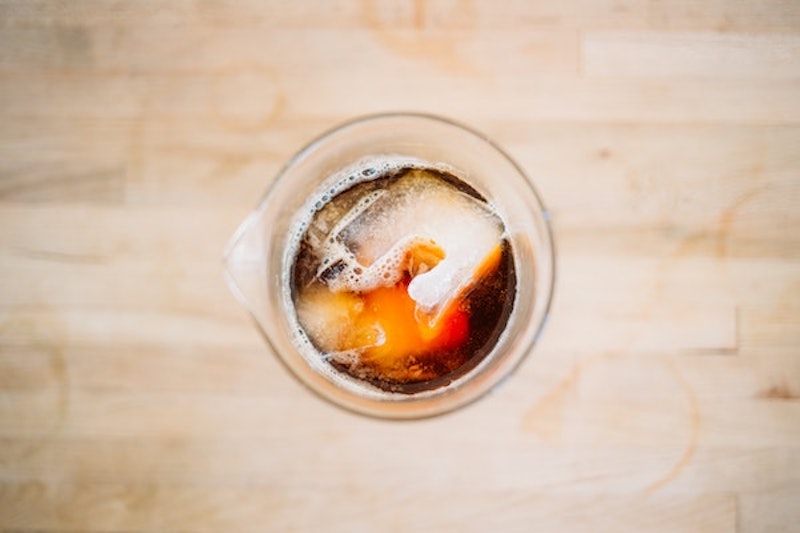 What is perfect with iced tea is that there is the possibility to have several flavours, most of the time these are fruits, which remind us of these hot days of summer. So, don't forget that you can use herbs and fruits (we usually see lime or lemon, but if you want to put strawberries or cranberries in it, feel free) to mix them with the tea, if there are not yet. Iced tea means two different things: a cooled tea or a tea with ice.
We can also add, just to make it funnier and to give a sweet taste to iced tea, things that we call iced tea sweeteners. These sweeteners can be found as syrups or sticks. You can bring your sticks everywhere you want. That's a simple way to add some happiness in your life!
Iced tea has now covered a big part of the planet, from west to east, in almost all countries, and, obviously, every culture puts his two cents in his recipe. At some places, this one is sweetened, but it can be carbonated (or not), flavored (or not), etc.
A lot of brand marks developed their own recipe (Lipton, Nestle, Brisk, Coca-cola and a lot more…) All these companies are fighting (oh yes, they are, always, they want more notoriety) and they wish they make happy the greater amount of palates all around the world, as in everything.
Surprisingly, iced tea successfully reached Asian cultures. For everybody, it is simple, efficient and quick: we can bring this beverage everywhere, because you find it most of the time in bottles. It's also simple to do it. So, get your pitcher!
Wait, there are some rules to follow if you want to have a perfect iced tea:
1. Don't be stingy on tea.
2. Don't infuse too much (use more tea).
3. Add sugar when it's hot (or use syrup/sticks)
4. Wait so it cool down a little bit before refrigerating.
5. Do it yourself even if bottled ones are good!
Now, you need your imagination. First, you have to infuse the tea leaves, no matter which you chose (but, you have to make sure they stay in water for the proper time) in water at room temperature for 30 minutes or more (until a full night).
Here, you will have to think about what you love. Use your fantasy: add herbs and fruits, and ice (of course… I know you knew). Everything is going to be perfect, trust yourself.
Get your cups on the table, enjoy the sun with a cooling beverage! Don't be shy to do it when it's snowy or when it's cold outside, it's always refreshing.