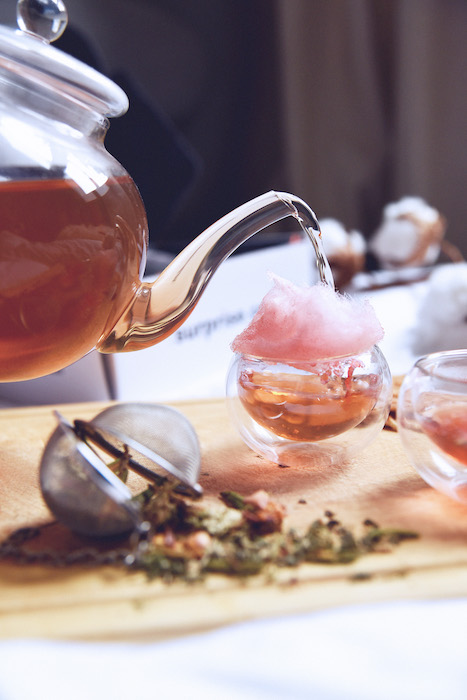 Finally, one feels a comfortable cocoon to pamper oneself in cold weather. Our clothes are examples, our captivating book and our hot cup of tea. With his divine infusions, our box of the month.
This beautiful Yunnan green tea is delicate and velvety. Its sweet and sweet flavors blend with subtle aromas of wild flowers, wild herbs, honey and sweet almonds. Low in theine so perfect before the nap of the afternoon.
Oolong tea - Chai de luxe with hemp of the Maison d'Herbes
This Chai is a happy marriage of Indian black tea, cinnamon, black pepper, cardamom, hemp seed and clove to keep you warm. For a total pleasure, dive in a cinnamon stick!
This harmonious Darjeeling tea from India, 1st Flush, caresses our taste buds with its fruity aromas with accents of fresh herbs and spices. This green-tinged classic releases a full-bodied, mineral and salty liquor typical of teas produced from the original seedlings. A pure happiness!
This Matcha Bangoshi is grown in a region close to Kyoto famous for producing the world's finest green teas. Bright green, this matcha will give you a wide experience in the mouth in balance between herbs and sweetness. A wonderful way to start the day in style!
Surprise Gift - Mini Vanilla Bath Bomb
As soon as you put it under the hot water, this bath ball produces an action of effervescence while giving off a sweet smell of vanilla pod to perfume your relaxation break. Handmade in Quebec by Oatmeal, it contains natural ingredients (baking soda, coconut oil, citric acid, phthalate-free fragrance, water
Gluttony - Cinnamon stick
This cinnamon stick will add humpf at tea time. Known for its unique aroma, cinnamon has perfumed herbal tea for more than 4500 years. To be kept dry in an airtight and opaque container.