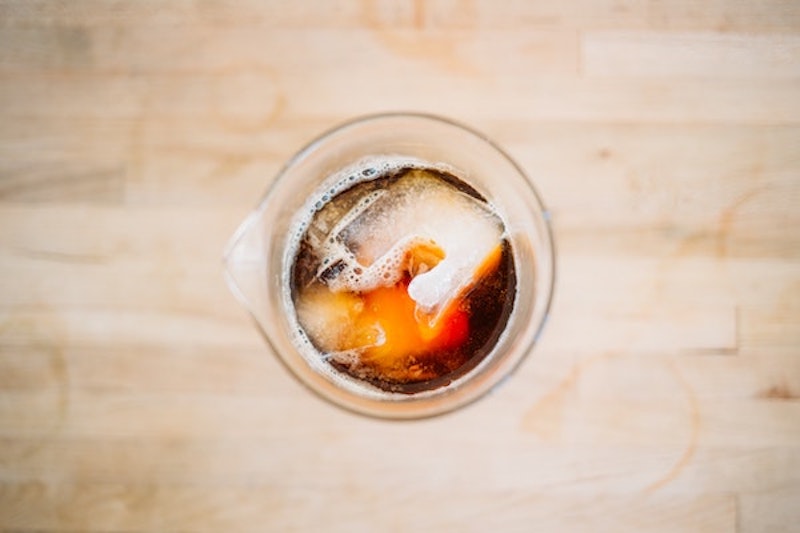 The secret to the best iced tea is to brew it cold and let it steep for long hours.
Find out here how to make a cold-brewed iced tea step by step.
COLD ICE TEA
Cold brewed iced tea is sure to be a better iced tea than hot brewed iced tea. By the way, that's how you should always make iced tea, it is a game changer, patience is the secret ingredient!
Cold brew tea is a slow, gentle brewing process that creates a smoother, sweeter tasting tea. Tannins, which make tea bitter, are not "macerated" in cold water as in hot water. This means that the tea will not be bitter but much smoother.
Because cold brew does not involve hot water, it's perfect to make during the hot summer months and it's still the easiest way to brew iced tea.
However, unlike hot brewing, it takes a minimum of 12 hours of brewing.
What you need:
Tea of ​​your choice: 1.5 teaspoon of loose tea or 1 tea bag
Volume of water: 1 cup (8 fl oz.)
Water temperature: cold
Infusion time: 12 hours
Preparation steps
STEP 1: Put tea and water in a pitcher or glass container.
Use cool or room temperature water. No need to boil water to brew cold tea. The tastiest tea is made with the best water, so use filtered water.
STEP 2: Cover the pitcher and refrigerate for at least 12 hours.
Most teas should be cold brewed for at least 12 hours EXCEPT green teas. Green tea like sencha should only be cold brewed for 3 hours.
Green tea in general is more delicate to prepare, both hot and cold. It can taste bitter if not prepared properly. Black tea, oolong tea and herbal teas are the easiest to prepare because and must be steeped for 12 hours.
STEP 3: Filter the tea leaves.
Instead of using a strainer, the easiest way to brew cold brew tea is to use a teapot with a filter as you can simply remove the infuser instead of straining the tea into another container.
STEP 4: Pour the tea into a cup with or without ice.
Cold brew tea is already cooled, so adding ice is optional.
Cold iced tea contains caffeine, unless you used herbal tea
All types of teas can be cold infused, some precautions should be taken with tea see (see above)
Cold tea will keep for 4 days in the refrigerator
It is best to buy loose tea for brewing as it is generally better, but it is quite possible to use teabags.
Envoyer des commentaires
Historique
Enregistré
Communauté